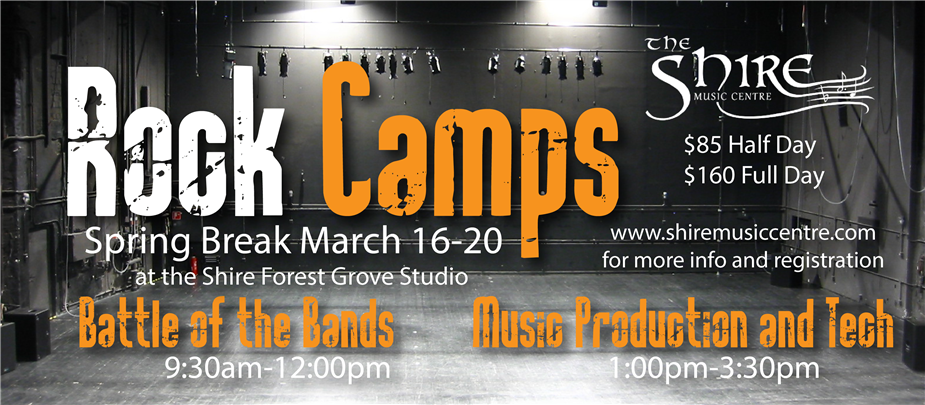 SORRY CAMP FULL - Sign up on our mailing list for future sessions and camps.
Spring Break 2020 Camps - March 16-20
(Half day or Full day Camps)
Camps are for youth in grade 2-7. $85 - Half Day $160 - Full Day
Registration is Full
BATTLE OF THE BANDS - 9:30am-12:00pm
Join a band and create a band poster
Learn to play Guitar, Drums, Piano and Vocals
Work with a band to perform and present cover songs
Battle another band in friendly competition
Play a small concert for family and friends
Video Production and Music Tech - 1:00pm-3:30pm
Join a Tech Crew and perform 'Tech Challenges' with your team
Compose and create music with digital tools (computers and tablets)
Learn how to use stage/DJ lighting and create scenes
Explore visual art/photography and it's relationship to music and performance
Learn how to record and edit music and a short music video
Registration is full
---
Spring 2020 Music Sessions
Contact craig@shiremusiccentre.com for info on Guitar, Drums, Vocals, Piano and Jam Groups for winter 2020. Some private sessions available as well.
Sign up on for mailing list to keep updated with Shire sessions and events.


---
---

For info or to book RockIT after school sessions at your school please email us: craig@shiremusicentre.com
Main Office and Forest Grove Studio
#30 8650 Cinnamon Drive, Burnaby, BC
SIGN UP FOR THE SHIRE NEWSLETTER